Machine Learning NYC Neighborhoods
13 Jan 2016
Check out the NYC Neighborhood Predictor!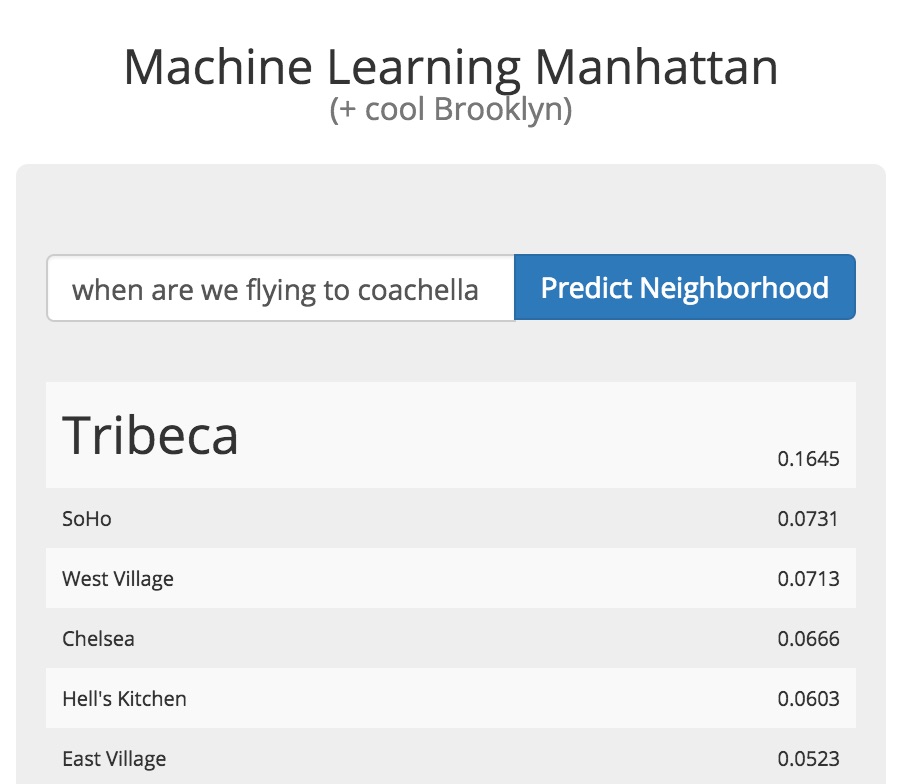 It uses AWS Machine Learning to predict which neighborhood a string of text originates from.
Overview
Machine Learning What?
Using a dataset of ~1G of geo-tagged tweets, we create a CSV with two columns: text and neighborhood.
After training and evaluating a machine learning (ML) model with this data, we expose the real-time endpoint via this elixir application.
Takeaways
Molding the training data to create a better model is the real challenge here.
Does my data even have statistical correlations or is it just noise?
Iterate, iterate, and iterate again on the model and evaluation data is what needs to be done here.
Input Schema
{


  

"version"

:

 

"1.0"

,


    

"targetAttributeName"

:

 

"Neighborhood"

,


    

"dataFormat"

:

 

"CSV"

,


    

"dataFileContainsHeader"

:

 

true

,


    

"attributes"

:

 

[


    

{


      

"attributeName"

:

 

"Text"

,


      

"attributeType"

:

 

"TEXT"


    

},


    

{


      

"attributeName"

:

 

"Neighborhood"

,


      

"attributeType"

:

 

"CATEGORICAL"


    

}


    

],


    

"excludedAttributeNames"

:

 

[]




}